Date(s)
10/20/2012
Time
8:00 am to 6:00 pm
Event Information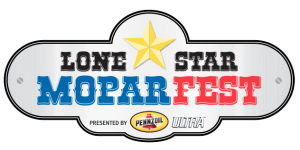 Lone Star Mopar Fest (LSMF) is a family-friendly gathering of 2005-2013 Chrysler 300, Dodge Charger, Dodge Magnum, Dodge Challenger, and Jeep Grand Cherokee SRT owners.
As enthusiasts we wanted to create an event where owners who like to "show" and owners who like to "go" can all gather in one place. We call it "Where Appearance and Performance Converge".
In 2011, we hosted the first LSMF with an overwhelming response of 275 vehicles. Of the 275, 102 owners decided to take their skills to the track for 1/4 mile or autocross action. What everyone appreciated was it doesn't matter how stock or how custom your car is; it doesn't matter how fast or how slow you car is. What matters is you come out and have fun.
There is something for everyone at this event:
Texas-Sized Meet & Greet
People's Choice Show-N-Shine
Vendor Alley
Quarter-Mile Racing
Autocross
Kids Zone
Food Truck Concession Area
Hennessey Performance Shop Tour
For 2012 we have added a Kickoff Meet & Greet on Friday Night at the Host Hotel. In addition there will be a Best Lighting Contest sponsored by Advanced Automotive Concepts/Oracle of Houston. First, second, and third place will be announced on Saturday at the main eventLSMF2012 is an event you don't want to miss. Drive, ride with a friend, or fly but make plans to be with us on the weekend of October 20th.LSMF2012 is free for owners and their families. Bring your chairs, pop-up canopies, coolers and make a day of it.  
Please, no pets and no alcohol at the racetrack.
8:00am – Gates Open
9:00am – Welcome Address and Official Start of Event DayVisit 
www.LoneStarMoparFest.com
 for the latest event and 
Host Hotel
 information.
Admission Fees:
Registered owners and their passengers are admitted for free with entry ticket.
Spectators (non-owners) are welcome.
Event Day admission (without ticket) is $5 per person.
Children 12 and under are free.
Race Program Info:
A "RACE DAY TECH CARD" is required to if you plan to participate in the Test & Tune, the Quarter-Mile Race Program, or the Autocross.
One $20 tech card is good for any/all of the track events.
8:45am – Drivers Meeting (Autocross and Quarter-Mile Racing).
9:45am – Track Opens for Race Events.
Helmet Required for all Quarter-Mile Racing.
People's Choice Show-N-Shine Info:
Every car is automatically entered into S-N-S and will receive a participant number to display on their dash and one voting ballot.
Voting Period is from 12:00pm to 2:30pm.
There be one winner chosen from each of the six classes: 300s, Chargers, Magnums, Challengers, Grand Cherokee SRTs, and Classic Mopars.
Links & Social Media
Lone Star Mopar Fest
Website: www.lonestarmoparfest.com
Facebook: www.facebook.com/LoneStarMoparFest
Twitter: @LSMoparFest
Event Registration: http://lsmf2012.eventbrite.com/

Space City LX
Website: www.spacecitylx.com
Facebook: www.facebook.com/SpaceCityLX
Twitter: @SpaceCityLX
---
Need Directions?