Date(s)
07/28/2013
Time
10:00 am to 5:00 pm
Event Information
Alamo Hot Rod Parts Day at the Races
For the racing season in 2013, Alamo Hot Rod Parts and Lone Star Motorsports Park have joined forces to bring you an exciting season of racing. Alamo Hot Rod Parts will host a FREE DRAG RACE on the Sunday following each of the POINTS RACES. On the designated Sunday, the race car driver and their vehicle will come into LMP, and receive ONE FREE tech card.
SPECTATORS and CREW MEMBERS will be charged $15.00.
Please help us make this Sunday program a success all year. Read the information below.
Any Spectators or Crew Members staying over the night will be ask to purchase their Sunday Arm Band for $15.00. LMP Is charging Alamo Hot Rod Parts a "TRACK RENTAL". On Sunday this $15 offsets the cost. Anyone without an arm band on Sunday, will be asked to purchase it from the fuel station. If this system is abused by spectators and crew members, we will stop the Sunday race program entirely.
Open to Bracket Racers only. No open Test N' Tune sessions.
Classes and Payout
TOP (Box)
Win $3,000 $6,000
RU $1,000 $2,000
Semi $500 $1,000
MOD (No Box)
Win $1,000 $2,000
RU $500 $1,000
Semi $250 $500
Jr. Dragster
Win $250 $500
RU $125 $250
Semi $75 $150
1st round buy back in all classes
TOP $100
MOD $75
Jr.$ 50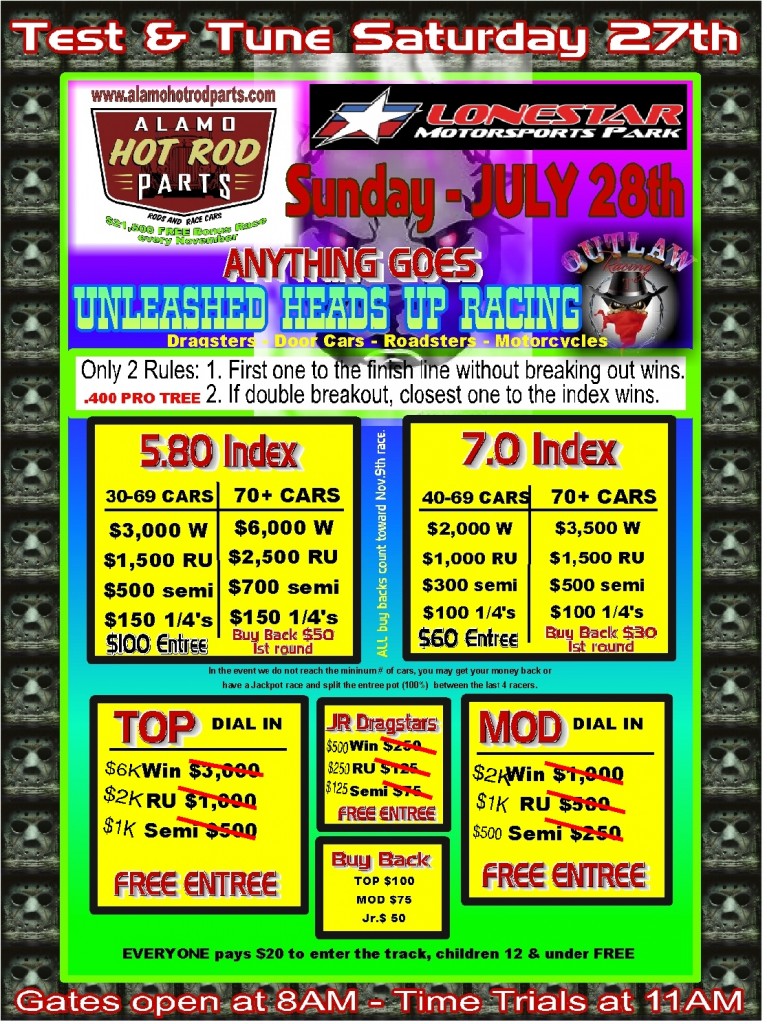 ---
Need Directions?